Wednesday, January 19, 2022 will be a Digital Learning Day for the School District of Pickens County due to the continued danger of icy roads. Students will not attend school in-person. While there are areas in our county that have improved, there are many shaded areas that continue to have noticeable ice and black ice on roads. Temperatures are expected to drop again tonight and are not predicted to rise above freezing until after 9:00 am. Even with a delay, transportation would have to occur on the roads prior to this time.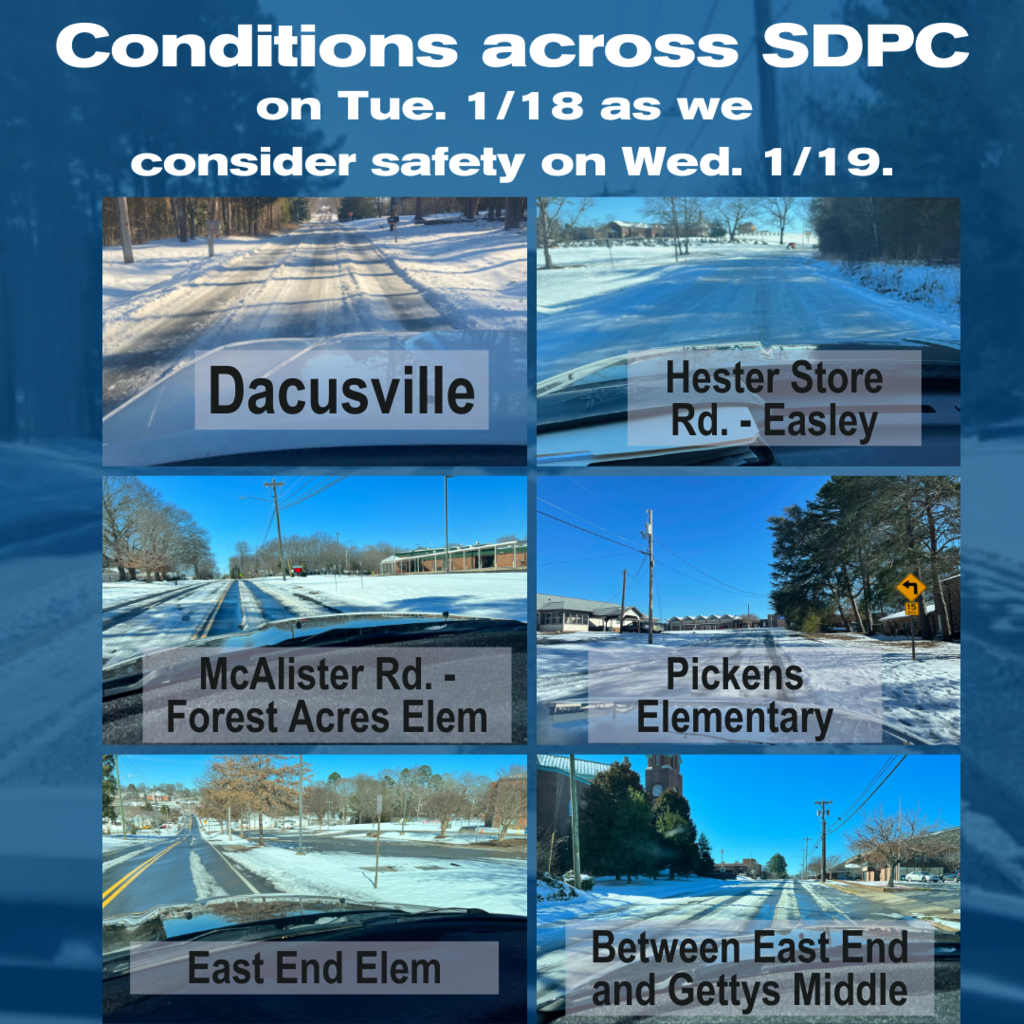 Tuesday, January 18, 2022 will be a Digital Learning Day for the School District of Pickens County due to icy roads. Students will not attend school in-person. Temperatures are expected to drop into the teens tonight following the snow, sleet, freezing rain from yesterday. Noticeable ice and black ice on roads throughout the county is a serious concern tomorrow morning. We will make a decision regarding school for Wednesday (January 19, 2022) on Tuesday evening.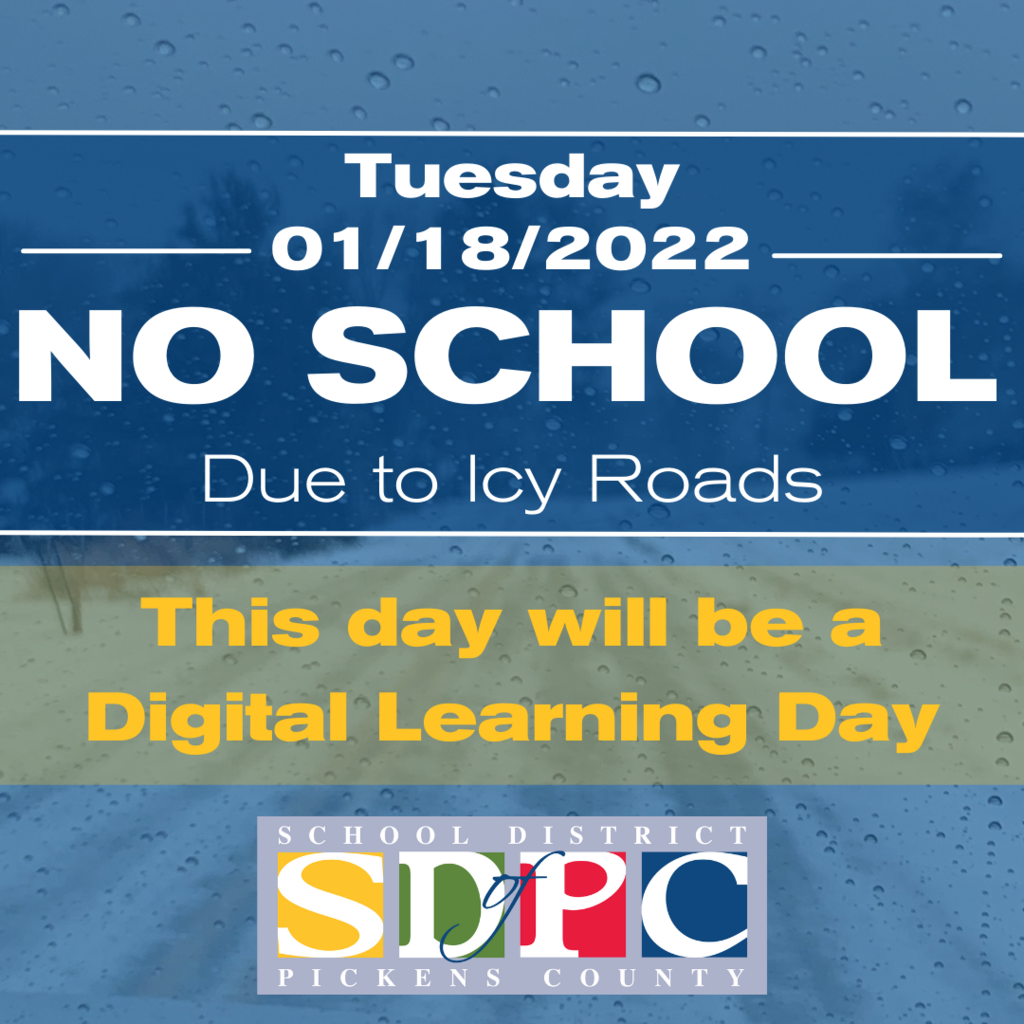 Save the Date for Kindergarten Registration! It's almost time for 3K, 4K, and 5K students to enroll for the 2022-23 school year! SDPC will start registration for the 2022-23 school year beginning in February. Parents can begin the registration process online now by entering their information into the New Student Gateway:
https://www.pickens.k12.sc.us/page/new-student-gateway
Schools will use this registration to contact parents of potential 3K and 4K students to set up screening appointments. More information regarding 3K and 4K programs for the 2022-23 school year will be available in February. For answers to common registration questions, visit our website at:
https://www.pickens.k12.sc.us/page/registration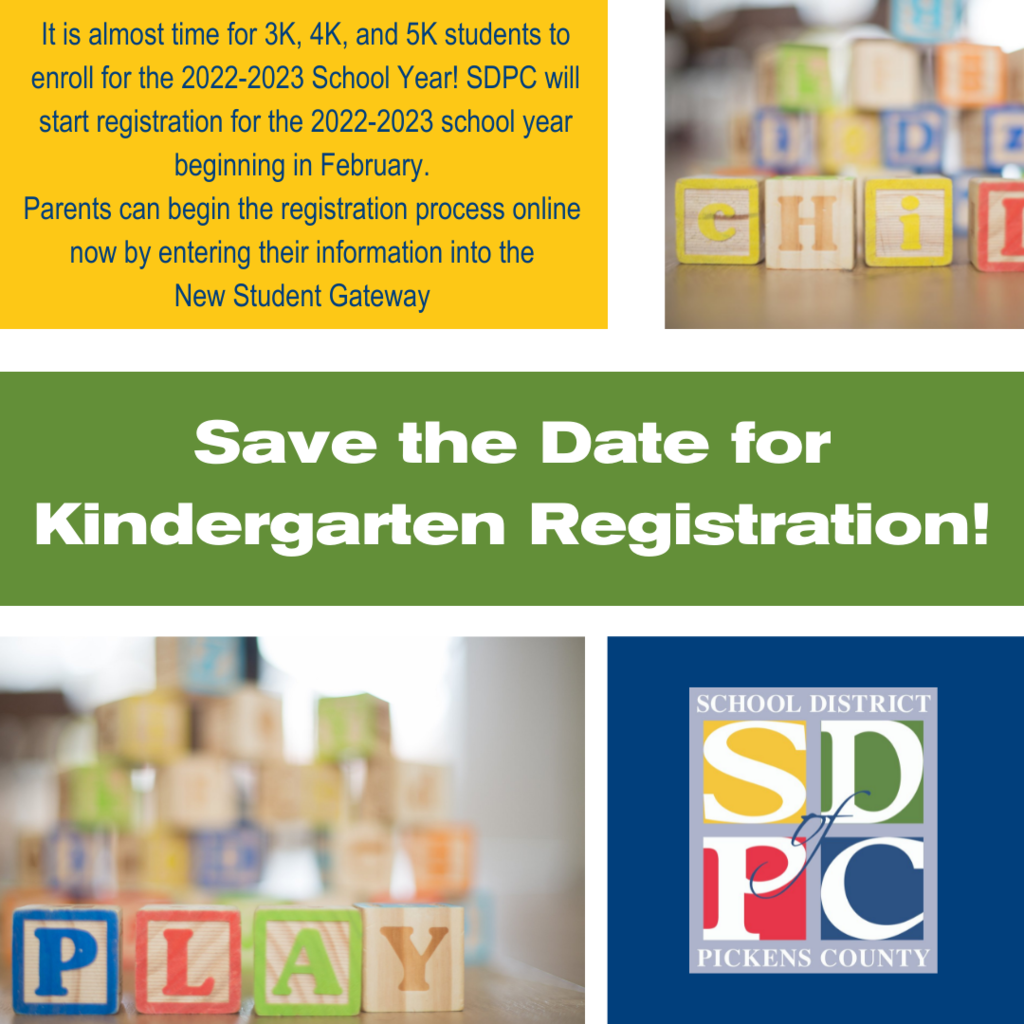 Introducing NEW Staff to our Panther family and community! You get to see her smiling face and know WHY she became a nurse! Nurse Baker will work alongside Nurse Wenda as she will retire at the end of the 21-22 school year. Welcome Mrs. Mary Parks Baker, School Nurse!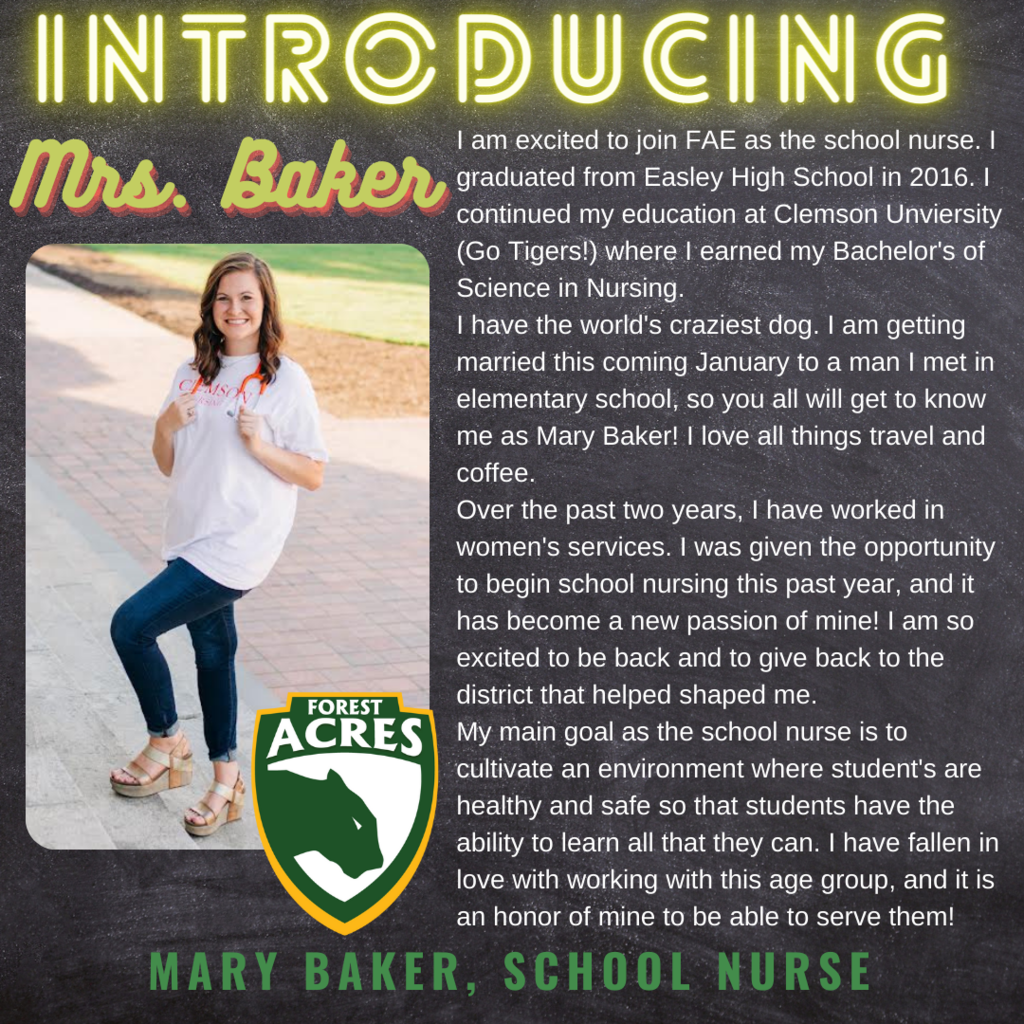 Reminder: As scheduled on the 2021-22 school calendar, there will be no school on Monday, November 1, 2021. Enjoy the long weekend! 🎃 🍁 🍂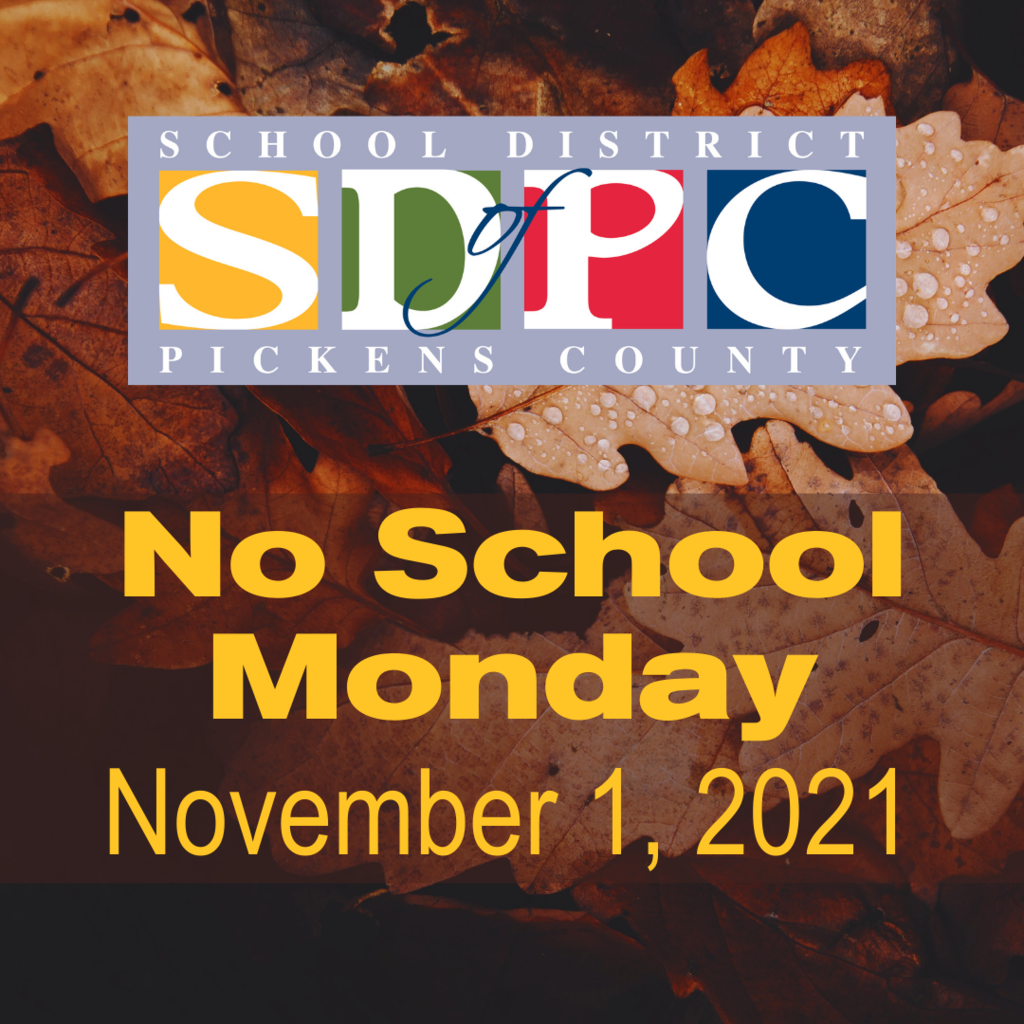 Parents, all the fundraiser items will be delivered to Forest Acres Elementary TOMORROW. Tuesday 10/19. All items MUST be picked up on Tuesday from 2:15 - 6:00 PM at the front entrance of the school building. There are perishable products and we want to make sure they get all picked up since we do not have any refrigeration space available to store orders. Thank you for cooperation as we strive to ensure that everyone practices appropriate social distancing for the health and safety of our families and volunteers. When you arrive to pick up your child's order, please remain in your vehicle. You will be greeted by a volunteer who will place your child's order inside your vehicle. You are welcome to send a neighbor, friend, older child or family members to come pick up your items if you are not able to make it. All they need is the student name and we'll take care of the rest. Thank you so very much for your support! We had a wonderful fundraiser and could not have done it without you!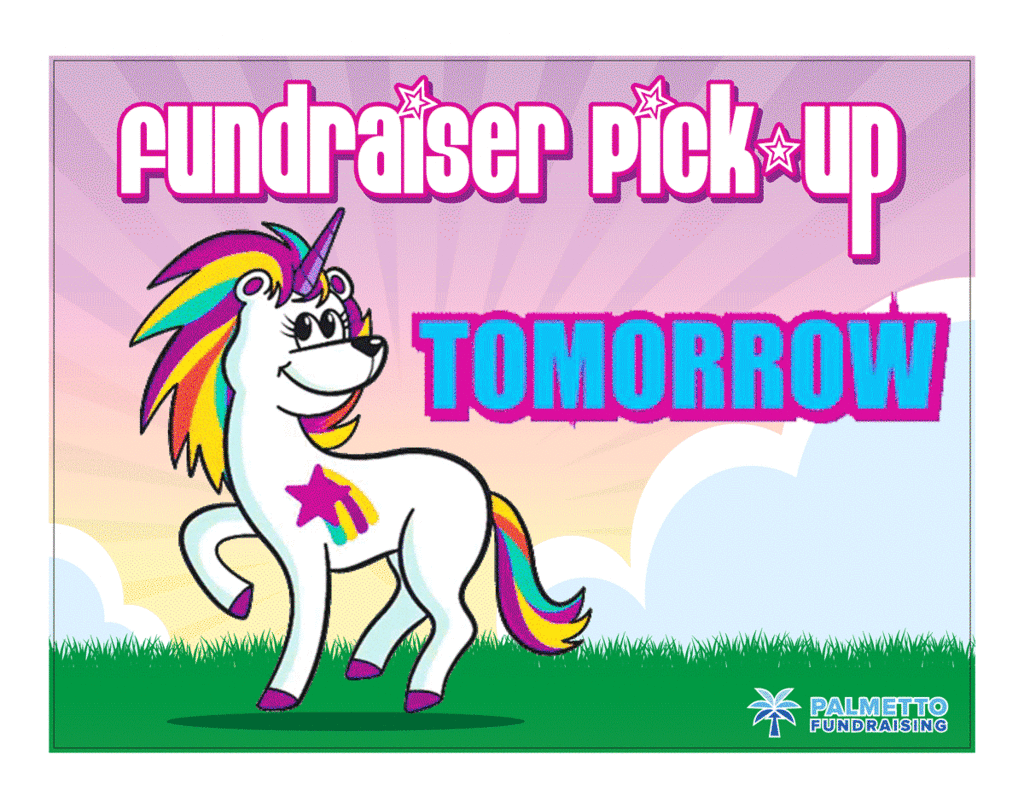 2nd Grade Testing Notice The School District of Pickens County will begin CogAT & IOWA testing on Thursday, October 14th. Please make sure that your child is in attendance at school by 7:50 am each day. Mark your calendar! A formal letter will be coming home soon.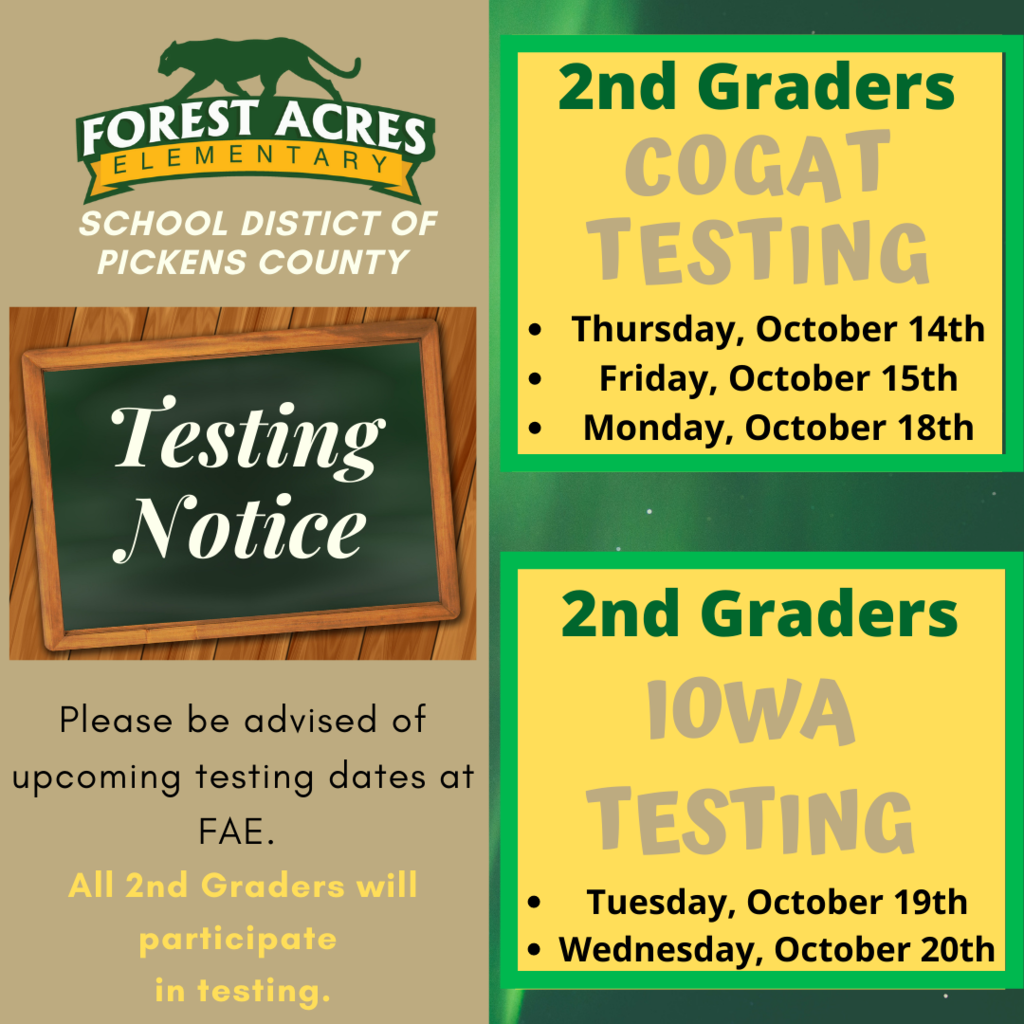 Hello, Panther families! Please be sure to check out our newsletter-FAE Parent Update for important announcements and reminders.
https://www.smore.com/m5zwkv
Happy Fall and have a great weekend!

FAE is hosting a Virtual Open House this evening from 5-7pm for teachers to showcase students' work and parents to communicate about their child's progress. We are 'tech ready' to continue serving our school community to ENGAGE, CONNECT & SUPPORT. Appointments have been scheduled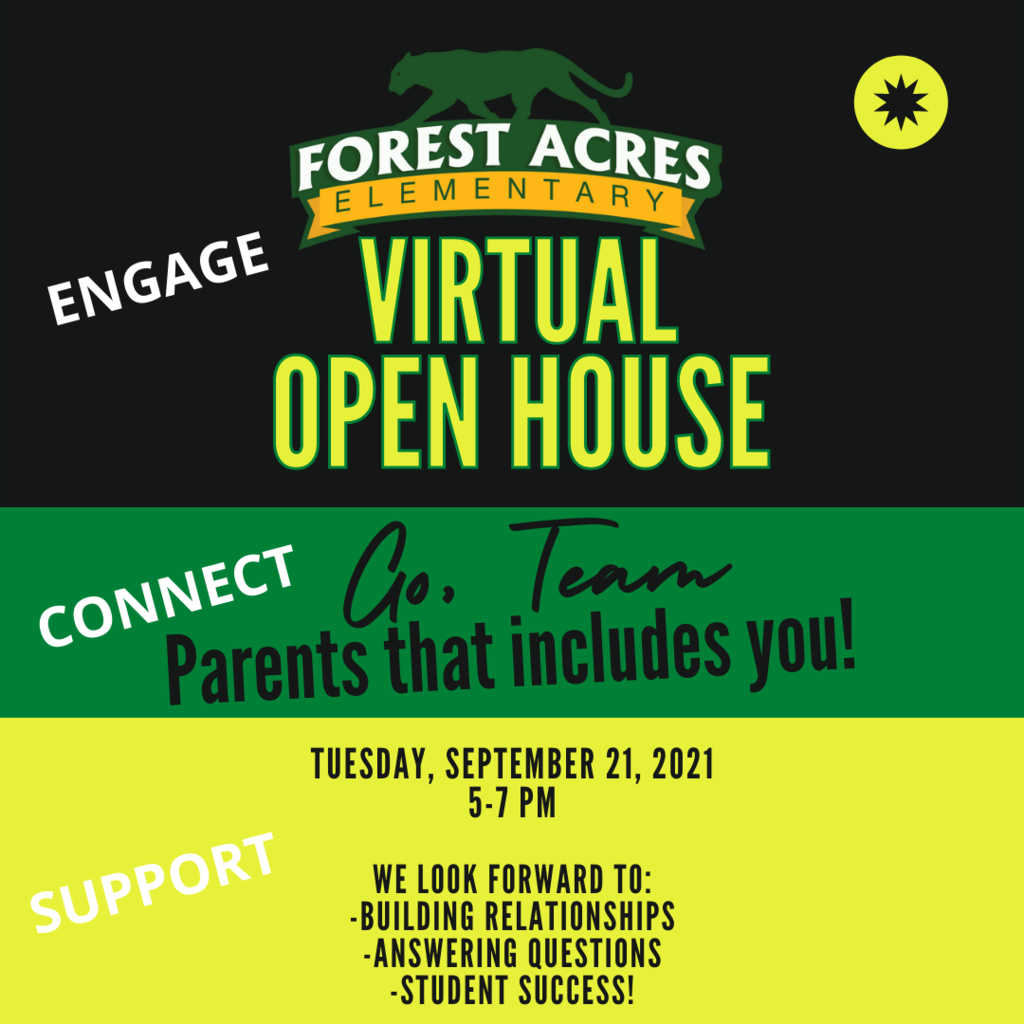 SDPC JOB FAIR Thursday, September 30, 2021 1-7pm Pickens County Career & Technology Center 990 Chastain Road Liberty SC, 29657 Join SDPC for our Job Fair on September 30. We will be interviewing candidates on site for positions including Teachers, Custodial Staff, Food Service Staff, and Grounds Crew. Those interested should apply at
www.pickens.k12.sc.us/page/join-our-team
(if unable to complete application prior to job fair, Chromebooks will be available to complete the application on site).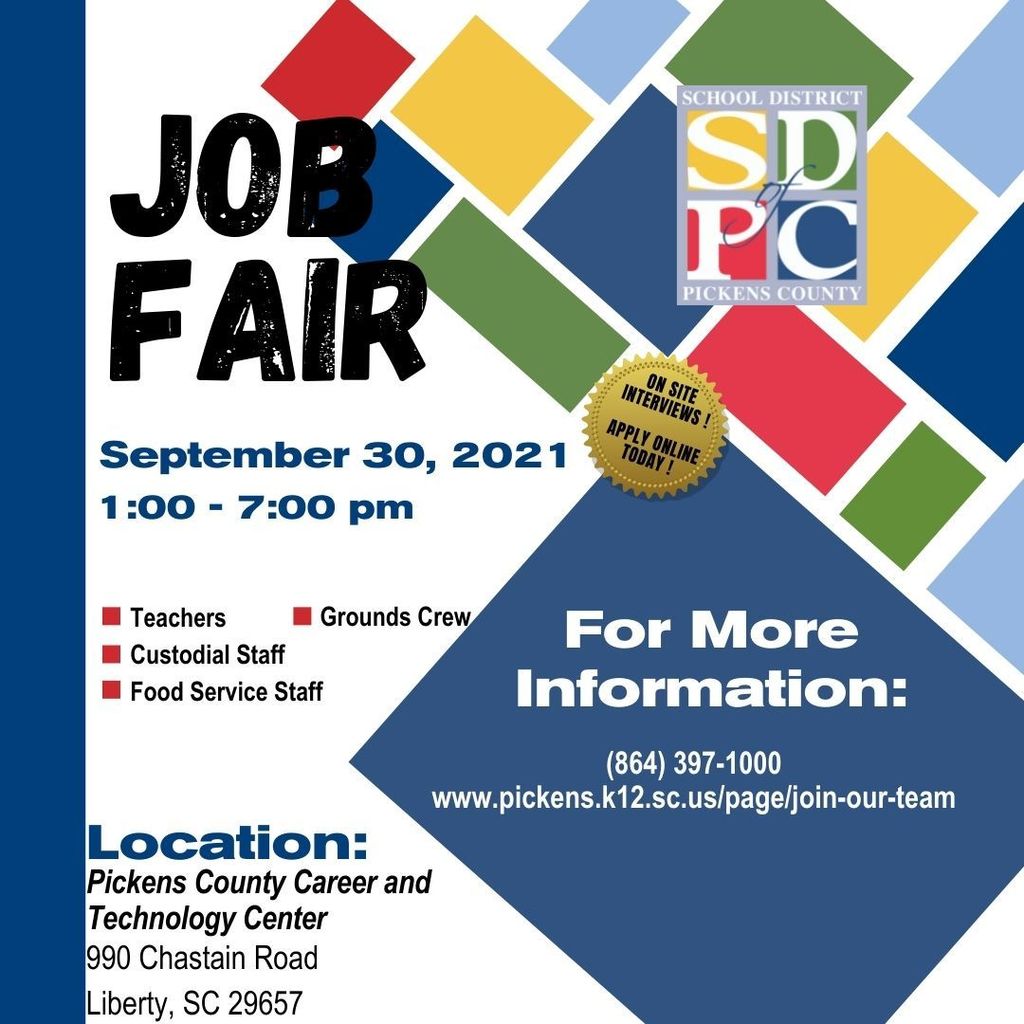 Interim Reports for the 1st Grade Period were issued to students today, September 1st. Thank you families for your support! #FAExcellence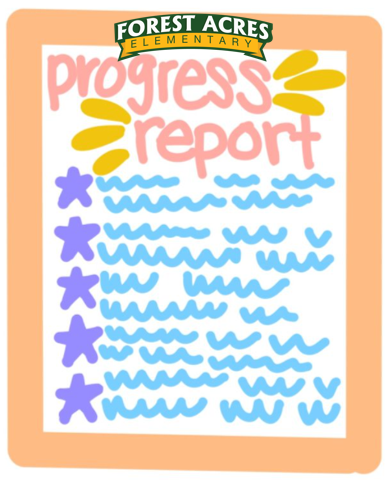 Your pickup time will be based on your child's LAST NAME on August 17th We will have extended hours for families, 4 pm - 7 pm. Thank you for your support!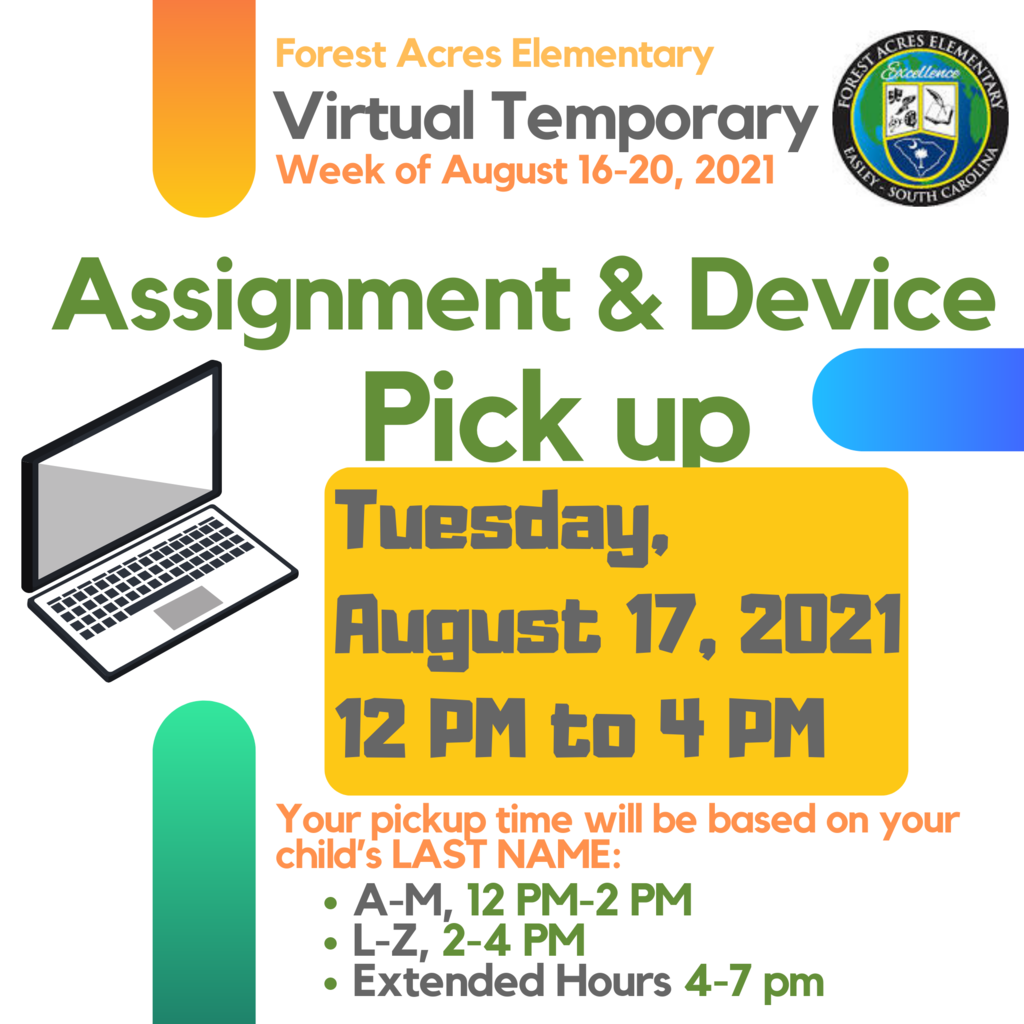 The School District of Pickens County is excited to begin the 2021-2022 school year on Tuesday, August 3. We have been working to finalize our school Back-to-School Safety Measures. Please carefully review the information on the attached infographic as we prepare to return for the 2021-2022 school year. Visit the SDPC website for full information. COVID Update page on the SDPC Website -
https://www.pickens.k12.sc.us/page/covid-19-info

Forest Acres Elementary, publishing on 07/26/2021 at 08:30AM FAE ~ Back to School Update 21-22 Click here ->>
https://www.smore.com/gkn6p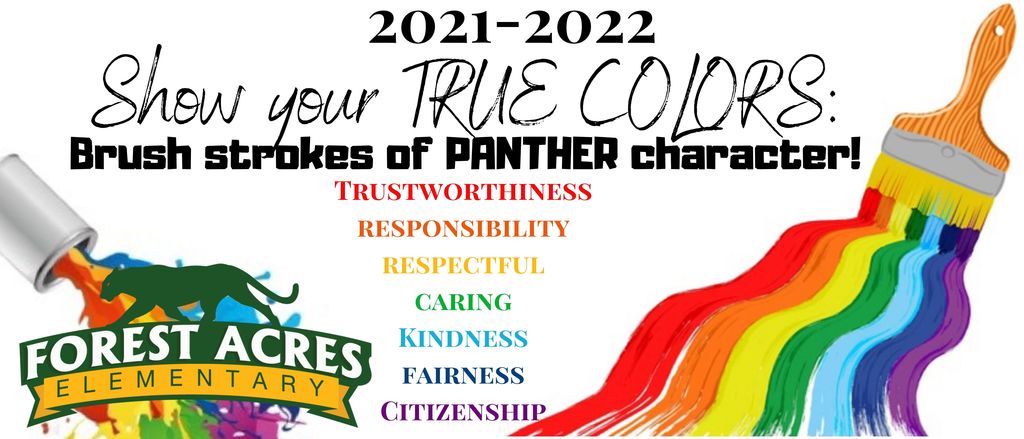 Schoology is a powerful learning platform in the classroom and at home. Download the Schoology App today for quick access to your student's grades, assignments, and announcements. Look for your Student Access Code when you visit your school in the coming days! #SDPCbettertogether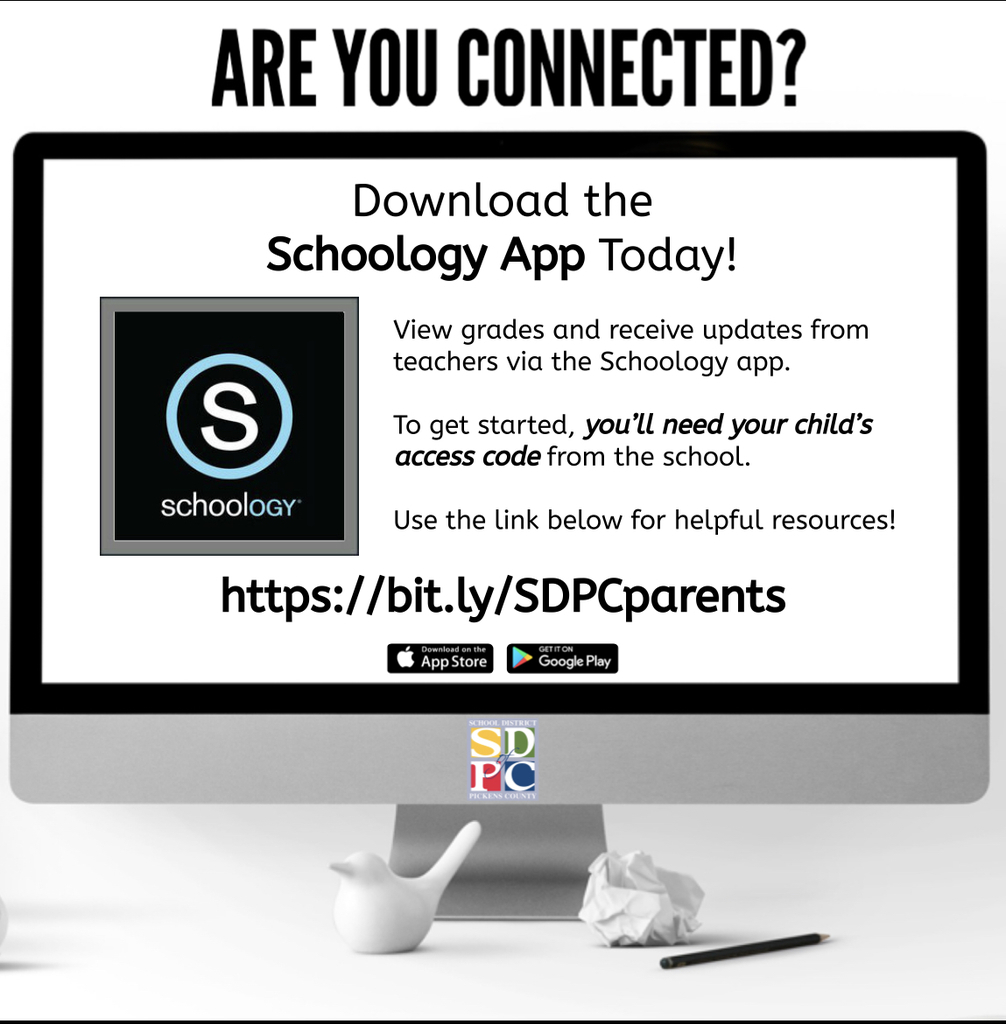 Introducing NEW Staff to our Panther family and community! You get to see their smiling faces and know their WHY for becoming an educator! Welcome Courtney Carey, 3rd Grade Teacher 🐾 #FAExcellence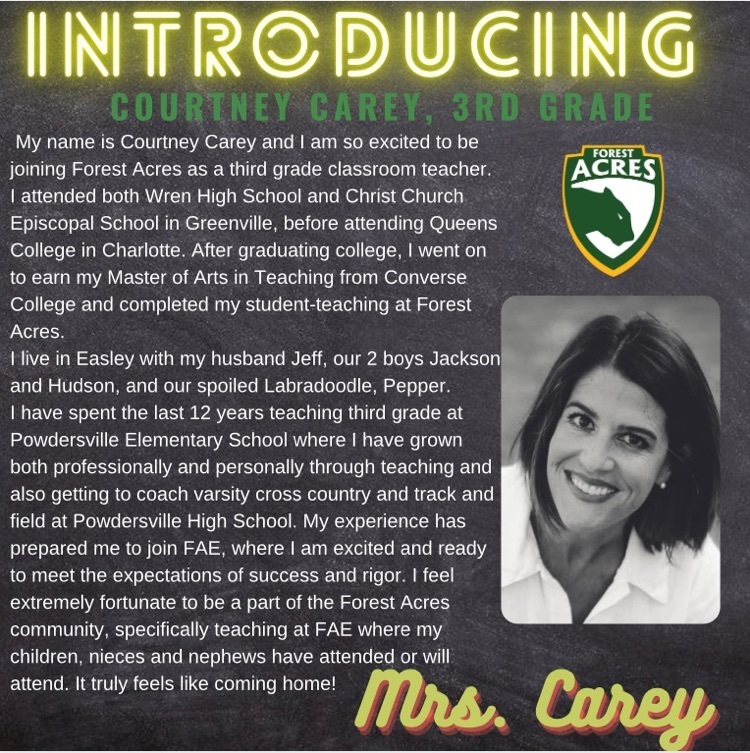 Introducing NEW Staff to our Panther family and community! You get to see their smiling faces and know their WHY for becoming an educator! Welcome Mr. Thomas Cayruth, 4th Grade Teacher 🐾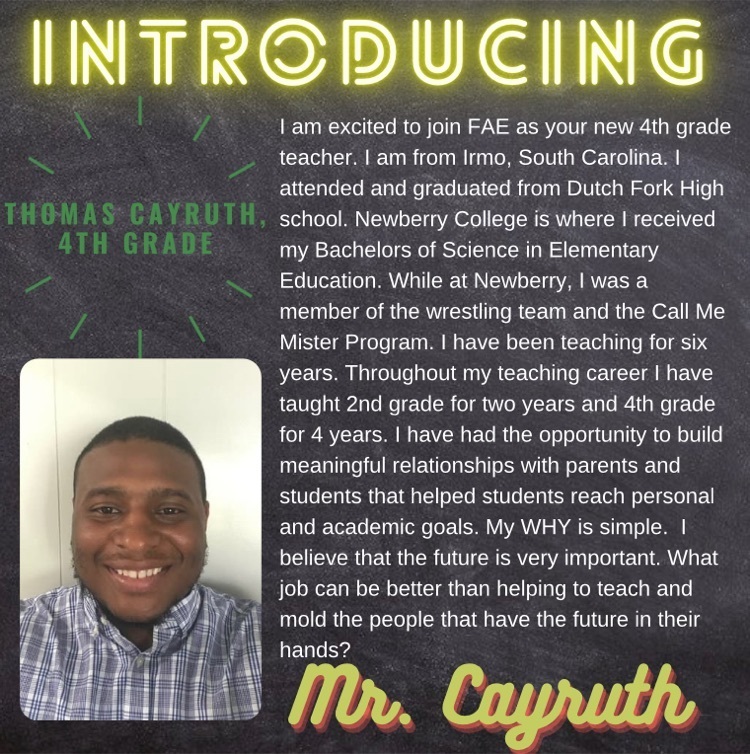 Introducing NEW Staff to our Panther family and community! You get to see their smiling faces and know their WHY for becoming an educator! Welcome Tyla Hill, 2nd Grade Teacher 🐾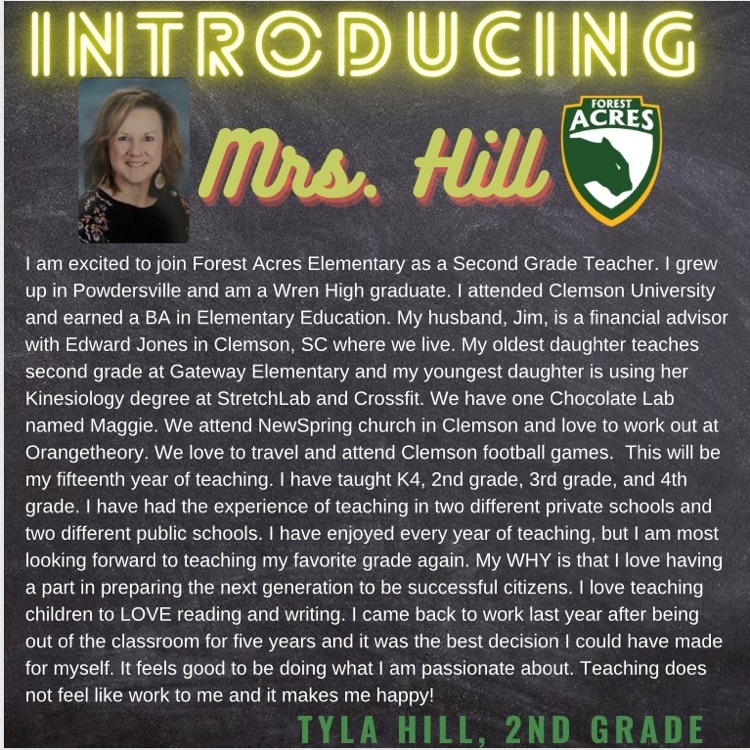 Introducing NEW Staff to our Panther family and community! You get to see their smiling faces and know their WHY for becoming an educator! Welcome Mrs. Caitlan Scroggs, Speech Pathologist 🐾 #FAExcellence